Zapraszamy do obejrzenia fotorelacji z naszego ostatniego zimowego wyjazdu z ashtanga jogą oraz nauką surfingu.
Wyjazd, jak zawsze udał się wspaniale.
Maroko – brama Afryki – kusi podróżnika różnorodnością krajobrazów i mozaiką kultur, zupełnie inny, fascynujący świat. Na plaży spotkacie wielbłądy, na drodze osły. Idąc uliczkami poczujecie zapach zielonej herbaty i mięty, którą tutaj kupuje się workami, a cukier używa się tylko kostkami. Tubylcy są przemili i przyjaźni.
W Afrykańską podróż zabraliśmy Was do Imsouane, malowniczej, rybackiej wioski, do której zjeżdżają się miłośnicy surfingu z całego świata. Imsouane to idealne miejsce do uprawiania surfingu, położone przy dwóch piaszczystych zatokach, jednej otwartej narażonej na wiatry i drugiej bardziej osłoniętej, w otoczeniu pięknej przyrody . Te dwie główne plaże są oddzielone tylko 100 m spacer i uzupełniają się nawzajem doskonale co czyni Imsouanne wyjątkowym miejscem dla surferów na wszystkich poziomach zaawansowania. Jednakże szczególnie dobre jest dla osób zaczynających swoją przygodę z surfingiem, gdyż położenie zatoki znacznie ułatwia trudy wiosłowania.
Dla większości z nas to był pierwszy raz na desce surfinogwe i wszyscy załapali bakcyla.
Nasz codzienny rytuał to :
7,45 zbiórka, spacer na tzw Katedre gdzie na dachu restauracji,w balasku budzącego się słońca w otoczeniu gór i oceanu praktykowaliśmy ashtanga jogę.
10,00 przepyszne śniadanie,
a potem surf, chill i relaks… 🙂
i dużo więcej … 🙂
Wszystkim uczestnikom raz jeszcze gorąco dziękujemy za super energię, obecność i znakomitą atmosferę!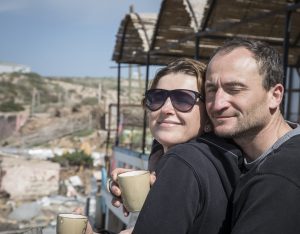 Serdecznie zapraszamy na kolejne warsztaty oraz wyjazdy z jogą organizowane przez Ashtanga Yoga Wrocław.
Wielkie podziękowania dla naszej niezastąpionej Pani fotograf Dominiki Hull ( jak zawsze pięknie )